Recently, a university in Saudi Arabia has developed a new "paper watch". Like the Apple Watch and Samsung Gear, this watch has health monitoring, but at a much lower price. This low-cost watch combines a flexible sensor with a silicon chip component. The biggest feature is that its flexible sensor is made from ordinary household items such as aluminum foil or sponge. This use of ordinary materials and modular design greatly reduces the cost of this health tracker, making it affordable for more people.
This watch is actually more like a bracelet, because it can't see the time at the moment. But its inventor, the King Abdullah University of Science and Technology (KAUST) researchers, has added an impressive array of features to this health tracker: it can Measure body temperature, sweat, heart rate and blood pressure. Particularly commendable is that its flexible sensor components can be replaced at any time.
KAHAM's electrical engineer Muhammad Mustafa Hussain said: "In the future, you can walk into a pharmacy, buy the sensors you need, and then plug them into your watch as easily as you replace them. This will bring innovators and consumers a lot." Great flexibility."
For modern medicine, it would be beneficial to develop a wearable device that everyone can afford and use this device to instantly monitor the health information of the human body to detect predictable health or disease patterns. But the main function of most cheap health trackers is only step counting and sleep monitoring. Wearable devices that measure more than $50 often have the ability to measure body temperature, sweat, and heart rate.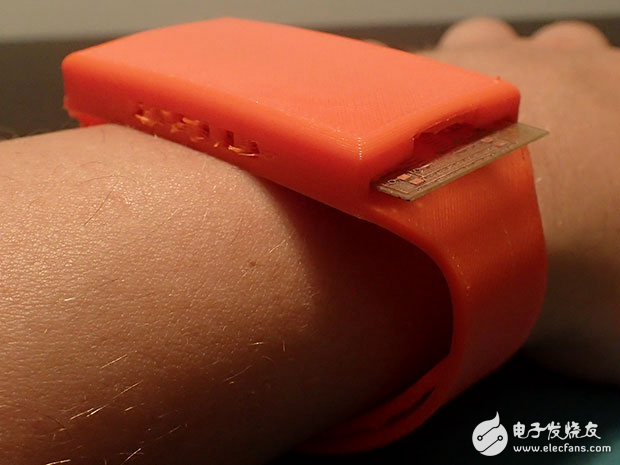 In comparison, the prototype of this watch currently costs only $25, which is comparable to the price of the Xiaomi Bracelet 2. KAUST researcher Hussain hopes to reduce manufacturing costs by $5 a year for the next five years until everyone can afford it.
The watch is based on the work "paper skin" of Hussain and his colleagues, and the so-called paper skin is an environmental sensor that uses a simple household material to create a 3D stacked structure.
In their latest work, KAUST engineers abandoned the original 3D stack structure and switched to a single-layer structure. The temperature and humidity sensor is a silver pen drawn on a sticky note, and the pressure sensor is made of aluminum foil, double-sided tape and polypropylene microfiber wipes.
These sensors are located at the bottom, which are overwritten with circuitry that can be used to read data. The third layer (the middle layer) is a thin layer of 矽-based microprocessor chip, and the fourth layer is the battery circuit and power management circuit. . The top fifth layer contains the RFID tag, which is drawn on the sticky note with a silver pen and then attached to a flexible radio frequency chip. These five-layer structures are housed in a 3D printed enclosure.
Although these sensors are common in materials and rough in practice, they are tested by a foundation stress that includes 300 bends and extensions. As a result of testing on a volunteer, it seems that the measurement accuracy of the watch prototype is roughly equivalent to that of Apple Watch and Samsung Gear, and the deviation is about plus or minus 5%.
However, the researchers said that in the future will continue to improve the accuracy of the sensor, after all, in terms of measuring blood pressure, the 5% deviation is already very scary.
At present, the prototype of this watch is being tested using software developed by the Chinese Academy of Sciences, and will be able to be used with a smartphone in the future. Hussain and his colleagues hope to set up a company that is committed to providing health monitoring services for the elderly this year, and they plan to add clocking to the watch.
Siren Alarm, Car Siren, Home Security Alarm, Bargular Alarm, Fire alarm, Car security System, Personal security Alarm
Siren Alarm,Outdoor Siren,Wireless Siren,Home Alarm Siren
NINGBO SANCO ELECTRONICS CO., LTD. , https://www.sancobuzzer.com