Title: Traffic Administrative Service Center LED Display and Queuing System Equipment Project Tender No.: NBZFCG2009038X Announcement Date: March 3, 2009 Deadline: March 12, 2009 Tendering Agency: Ningbo Highway Management Office: Zhejiang-Ningbo City Contents: Announcement No.: NBZFCG2009038X for the procurement announcement of the "Drainage Administration Service Center LED Display and Queuing System Equipment"
At the request of the purchaser, the second point of the first article of the "Qualification Requirements for Bidders" in the procurement announcement is as follows:
1. The original procurement announcement stipulates that "there is a qualification for security qualification or professional contracting for building construction", which is amended to cancel the qualifications of the article.
2. Other requirements and regulations remain unchanged, and the opening time is unchanged.
3. Please ask each potential bidder who has downloaded the procurement documents and has not downloaded the procurement documents to execute according to the revised regulations.
Special announcement! Company Name: Ningbo Municipal Government Procurement Center Contact: Mr. Zheng Tel: 0574-87283680 E-mail: Fax: 0574-87282586 Postal Code: Address: Room 904, 9th Floor, 79 Cangshui Street

Binding Post refers to the terminal installed on the power amplifier and Speaker box for connection with the speaker line.
Post type specification editor
Hexagon | | plum blossom nickel/silver plated JXZ - type 1 terminal/JXZ - 2 miniature terminal/JXZ - 2 (â…¡) terminal/JXZ - 2 (silver)/terminal/metal grounding column JXZ - 3 (a) 30 type terminal/JXZ - 3 (a) 50 type terminal/JXZ - 3 terminal/JXZ - type (100 a) 4 (a) 30 type terminal/JXZ - 4 type terminal/JXZ - 4 (100 a) terminal/JXZ - 4 (50 a groove terminal/ jxz-4 (100A aperture terminal/jxz-200a terminal/jxz-600a high-current terminal )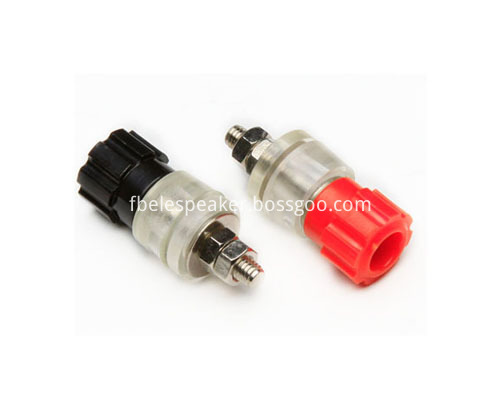 Binding Post
Binding Post,Electrical Conductivity Binding Post,Terminal Connector Binding Post,Double Electrical Binding Post
Ningbo Best Group Co.,Ltd , http://www.speakerbuzzer.com