Basic situation of the industry
In 2011, the development of the petrochemical industry achieved rapid and steady growth. According to the statistics of the National Bureau of Statistics, the scale of fixed asset investment in the petrochemical industry reached 223.448 billion yuan from January to December 2011, an increase of 10.1% year-on-year, and the growth rate slowed down. The growth structure is further optimized, the benefits are further improved, and the quality of operations is further improved. The industry's import and export continued to grow rapidly, investment was steadily accelerating, and market supply and demand were basically stable.
Industry growth is running at a high level
National crude oil production in 2011 was 204 million tons, an increase of 0.3% year-on-year; gasoline production was 81.411 million tons, an increase of 6.1% year-on-year: kerosene output was 18.798 million tons, an increase of 10.1% year-on-year; diesel output was 16.66716 million tons, an increase of 5.4% year-on-year: ethylene production 1527.5 10,000 tons, a year-on-year increase of 7.5%.
The existing problems are: 1. Some production capacity is growing too fast, and backward production capacity still accounts for a certain proportion; 2. The industrial layout is not reasonable, and the hidden dangers of safety and environmental protection are outstanding; 3. The proportion of high-end products is low, and the technical innovation ability is not strong; 4. Energy resource constraints are increasing, and the task of energy conservation and emission reduction is arduous.
Application of frequency converter in this industry
Application classification: Inverters are mainly used for process control and energy saving purposes in this industry. At present, it is mainly used in oil pumps, fans, compressors and other equipment.
Inverters are widely used in the petrochemical industry, especially in public works.
Main brands: There are relatively many brands applied in this industry, but ABB and Siemens are the best performing brands in this industry. In addition, local brands have also begun to be used in this industry in recent years.
Market size: gongkong® shows that the market scale of low-voltage inverters used in the petrochemical industry in 2011 was 450 million yuan, an increase of 4.7% compared with the same period in 2010, and the growth rate has slowed down compared with 2010.
Industry development prospects
Positive factors:
Based on the "Twelfth Five-Year Plan for National Economic and Social Development", "Industrial Transformation and Upgrade Plan" and "Twelfth Five-Year Development Plan for Petrochemical and Chemical Industries". In the future, the country will accelerate industrial restructuring and upgrading, promote industry technological progress, promote green and low-carbon safety development, and promote the transformation and upgrading of the petrochemical industry. The main goal of the plan: During the "Twelfth Five-Year Plan" period, the total economic volume of the whole industry will continue to grow steadily, with an average annual growth of 13% in total output value. By 2015, the total output value of the petrochemical and chemical industries will increase to about 14 trillion yuan.
Negative factors:
Due to political conflicts and economic turmoil in parts of the world in 2012, international crude oil prices will fluctuate significantly. During the 12th Five-Year Plan period in China, downstream automotive, textile, real estate, home appliance and other industries face negative factors of varying degrees, and the future prosperity of the petrochemical industry will be suppressed. The petrochemical industry is facing many challenges including resource protection, energy saving and emission reduction, elimination of backwardness, environmental governance, and safe production.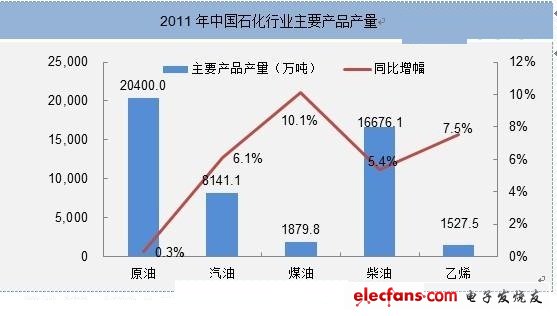 Hengstar professional CCTV monitors are designed for professional surveillance systems. The monitors have multi signal input options, and using BNC connectors, which can support long distance signal transmission. Its controller boards have functions of: low EMI, 3D filter and 3D noise reduction and professional Mstar ACE-3 image/color processing and, ensuring the monitors have a perfect image. We have different board solutions for various input needs, and monitors of small size(10.4'') to big size(65'') for option. Our monitors support wall mount and desktop solutions, other mounting solutions are customizable according to customer's requirements. This professional CCTV monitors have been widely applied to control centers, stations, banks, medical diagnose and other site monitoring fields.
Cctv Monitor,Cctv Monitor Screen,Cctv Camera Monitor,Small Cctv Monitor
Shenzhen Hengstar Technology Co., Ltd. , https://www.angeltondal.com