Providing a lower system cost than medium power LEDs in a more efficient manner
January 23, 2015, Shanghai, China - Cres (Nasdaq: CREE) announces the introduction of high-power XLamp
®
MHD-E LED devices and XLamp
®
MHD The -G LED device, based on the success of the groundbreaking XLamp
®
MH family of LED devices, combines the high lumen density/high reliability of ceramic-based COB LEDs with the design/manufacturing advantages of surface mount structures. By using the elements of the Cree SC5 technology platform, ceramic-based XLamp? MHD LED devices can simplify development, increase design flexibility, and increase manufacturing efficiency over medium-power LED devices. The MH Series delivers industry-leading performance while delivering new designs and significantly reducing system cost.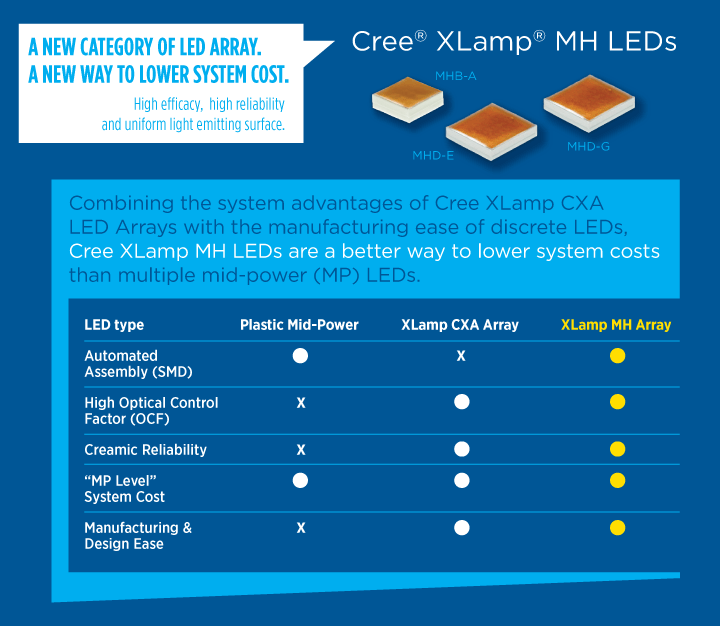 Baly Luo, general manager of Aeon Lighting Technolog, said: "The high lumen output and high reliability of Cree's new MHD-G LED devices help us develop new downlights and have advantages over other downlights on the market. ALT compact The 4-inch downlight enables more than 1,800 lm of light output at 3,000 K color temperature with the Cree MHD-G LED device. Other downlights only provide 800 - 1,000 lm light output."
Cree XLamp
®
MH LED devices are available in 7 mm x 7 mm packages and are powered by Cree's industry-leading EasyWhite
®
technology, which delivers smaller board sizes and tighter than mid-power LED devices. The beam angle, and closer to the traditional shape. The XLamp
®
MHD-E LED device achieves over 1,800 lm of light output at 14 W power. The XLamp
®
MHD-G LED device achieves over 2,500 lm of light output at 19 W power. XLamp
®
MHD-E LED devices and XLamp
®
MHD-G LED devices are ideal for semi-directional, high lumen applications such as downlights, high ceiling lights, and outdoor area lighting.
Paul Thieken, Global Marketing Director of Cree LED Devices, said: "At Cree, we are constantly introducing innovative products to help our lighting customers gain a better position in the market competition. With XLamp
®
MHD LED devices, we prefer the surface. Mounting technology lighting customers offer COB performance. It is easier to achieve lower system cost for lighting customers than homogenized medium power LED devices."
Cree XLamp
®
MHD-E LED devices and XLamp
®
MHD-G LED devices offer high color rendering index, color temperature 2,700 K - 6,500 K, and a variety of voltage options. Sample applications are now available and can be mass produced according to standard delivery times. For more information, please visit

You can get smaller portable batteries with 5,000mAh and
10,000mAh
capacities, but those with
20,000mAh
will last you longer and should charge your device several times.
Browse high-capacity
power banks
that are
thin
, lightweight and ideal for on-the-go. High-speed charging extends your
phone
battery
life
by
19+
hours
.
Shop
now
.
Power banks work
by using sophisticated electronics to manage taking in charge from a charger, storing it in a
battery
and then charging other devices.
Power banks
are not just a simple
battery
: they use sophisticated electronics circuitry to manage being charged, and then charging other devices.
On average,
power banks last
4 to 5 years and can hold a charge for 4-6 months without losing much
power
. For example, a 5000mAh portable charger that's powered up once every two days, it will need 1,000 days to reach the 500 charge-discharge cycles and drop to 80% capacity.
If the description of a portable
power
pack doesn't specifically mention your device, compare its specs to those of your existing charger. An iPhone and most
Android
smartphones need at least one amp (five watts), for example, while an iPad and other tablets expect 2.4 amps (12 watts). It's important to get this right.
A small Power Bank will store somewhere between 2500 and
3000 mAh
, meaning it has enough juice to give most smartphones one full charge. Be aware that this isn't always true these days, since many phones are coming with larger batteries, but this size should give you somewhere between 60% and a 100% charge.
Power Bank
Power Bank 20000Mah,Power Bank Module,Power Bank Powerfull,Slim 10000Mah Power Bank
Shenzhen Glida Electronics Co., Ltd. , https://www.szglida.com